The 3 Secrets to Discovering Your Personal SuperStar Style:
How you can become a magnet for clients, opportunities, and wealth
with Nathalie Chapron
The French Stylist Extraordinaire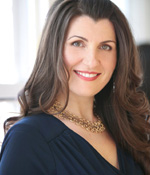 Nathalie Chapron, C.B.I.C, "The French Stylist Extraordinaire" is passionate about helping women entrepreneurs go from 'Hiding" to "Shining". Her mission is to help them look great in everything they wear, feel more confident and attract tons of their ideal clients into their business. Nathalie helps them create a "put together" professional image that is both completely authentic and magnetic. As one of her clients recently put it: "Working with Nathalie helped my business soar into the 6-Figure Realm" (Jenn August). Nathalie lives in the San Francisco Bay Area with her husband and her young son.


During this stylish 75-minute tea time interview, you will learn:
The # 1 mistake women entrepreneurs make when getting dressed for a business event and how you can avoid it.

What your Magnetic Star Style is, so you can show up anywhere and be seen as an expert instantly: How you can have clients, opportunities and wealth pursuing you as opposed to you chasing them down…

Nathalie's "Confidence Booster Formula". You will learn about the A – F scale and why you need to know where you fall on it (not knowing this is costing you thousands of dollars in lost revenue each and every year)

and much more…
Nathalie's free gifts for you:
Special Report: 5 Most Costly Mistakes that Women Speakers Make
Click to access.
Webinar: Five Simple (and Inexpensive) Style Makeover Secrets Most Women Don't Know
Click to access.
[expires off="2013-10-20″]
If you missed the Tea Topics Interview live, you can still access the replay for 48 hours:


[/expires]
[showafter on="2013-10-20″]Sorry, you missed the free replay. Please subscribe to Tea Topics with Tomasa for unlimited access to all of the Tea Topics recordings.[/showafter]