Walking your talk is living on brand! Now that is authenticity.  
People signing up with you want to know that you are the real deal. They want to know that they can relate to you, but they also want to trust that they can count on you to bring them to the place they want to be (a.k.a. results). As a gifted healer, it is your job to not only show up with your gifts ─ it is your job to be YOU. Show you, the real you, not the person you think people want to see.
Ask yourself: what you tell your clients to do, do you practice it too?
I know that when I branded myself as the Self-Care Queen in 2010, I was on to my true brand.
It was about me taking care of myself in so many ways, and encouraging my clients to take care of themselves. When I had surpassed my financial goals in 2011, I realized that it did not feel like I was living on brand. I remember going on a family vacation shortly thereafter and wanting to just have a personal retreat because I had reached the place of exhaustion. I was taking care of myself, but it was not enough for me. Not only had I built my one-on-one practice to a place of full capacity, but my live hands-on small group programs were growing strong…and I was in the midst of launching my first information/home study product which was a guided audio program, The Vibrant Energy Flow System.
The thing that was lacking in my life was fun.
The passionate, fiery goddess within in me wanted to have fun! My life felt very utilitarian, and I found that fun was the missing link in my life. So there I was, resetting my life; I wanted to experience passion. Trust me, I was passionate about my work but I wasn't feeling passionate about parts of my life. I set out for myself to explore more of the passionate, fiery goddess within me, who I realized I had been hiding for some time. I began to dance again like I used to do when I was twenty-something…I explored jazz dance, and eventually I added hip-hop. It opened me up for new possibilities in my life. I then started going out with my goddess friend, Diana to dance and to do things that made life fun again.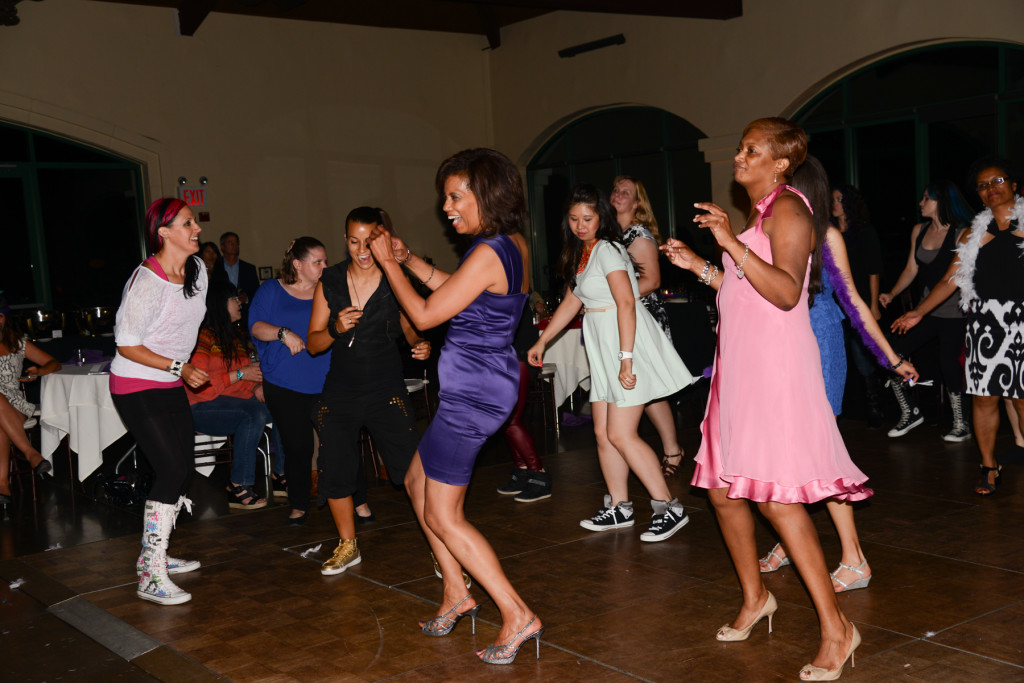 Eventually, I chose to let go of my marriage of 20 years after being questioned by a therapist at an event, "Tomasa, are you happy in your marriage?" Believe me, it was not some on-the-fly decision; I deeply contemplated these questions because it was not just my life but four lives directly involved, which included my daughters.
Apparently, it was the hardest decision I made but it was one that felt right to me when my youngest daughter who was not healthy and had no friends, began to have a life again, of good friends, friend gatherings, and her recently shared straight-A performance from her first semester at San Francisco State University.
So as Your Business Mojo Mentor, you can bet that I have a lot of fun not only with my self-care but with helping my mentees set up their businesses. Let me let you in on a secret (as I softly whisper) ─ all healers provide some kind of self-care.
With that, I have decided to launch self-care parties in 2014, where we get to have content-rich (and fun) self-care as we collaborate with each other. I love seeing my clients and peers share amongst themselves, and I love collaborating with other heart-centered entrepreneurs to create programs that help gifted healers and entrepreneurs thrive in the new paradigm, so why not give my clients the opportunity to do the same with each other?
So this is me integrating my Self-Care Queendom brand with Your Business Mojo brand, where I get to walk my talk as I cultivate a community of gifted healers to collaborate with each other.
If you are local to the San Francisco Bay Area, stay tuned for the next Self-Care Shindig! Yes, I am changing the name ─ it only seems appropriate for me. I might be a gifted healer who is spiritual, but I am human and I love me some bling bling. Living on brand, being me and sharing with you what I would only do myself…walking my talk.